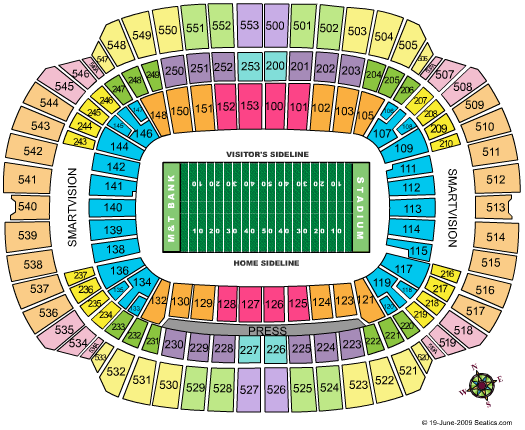 Children's Ticket
Children age 2 and under may be held in an adult's lap and are not required to have a ticket to the game.
Gate Entry
Entry gates are Gate A (North), Gate B (East), Gate C (Southeast) or Gate D (Southwest). Suite entrances are exclusively for use by fans holding suite level tickets. Gates open to the public 90 minutes prior to kickoff.
Parking Entry
Parking lots open 5 hours prior to kickoff.
Will Call
Will Call windows are located on the West side of the stadium, near Russell Street, between Gates A and D. During the football season, Will Call is open from 9 a.m. to 5 p.m. Monday – Friday, and Saturday 10 a.m. to 4 p.m., the week of a home game only. On game day, the window is open 2 1/2 hours prior to kickoff. Photo identification is required for all pickups.
Stadium Info
M&T Bank Stadium is 185 ft. high, which is 35 ft. above Oriole Park.
The 2 RavensVision video screens, located in each end zone, generate 16 million colors and at peak output consume up to 80,000 watts of electricity.
M&T Bank Stadium has featured other events: the Army-Navy clash (2000), Maryland vs. Georgia Tech, Salisbury State vs. Frostburg State, and 3 Morgan State games. The 1998 HFStival sold out in under 90 minutes and staged 15 bands, attracting over 90,000 fans. Heavy metal bands like Metallica, Korn, Kid Rock, Powerman 5000 and System of a Down rocked the house. Navy vs. Notre Dame played in 2002, and the NCAA lacrosse tournaments were held in 2003 and 2004. Kenny Chesney performed in 2008, and the World Football Challenge came in 2009.
A stone mosaic of piano keys is displayed on the SW plaza sidewalk in recognition of the old Knaabe Piano factory, formerly located on the stadium site.
Video screens
Each new Ravens Vision high definition screen measures 24 feet high and 100 feet wide. Those dimensions would equal a 1,234-inch diagonal TV screen. It would take 600 37-inch flat screen TVs to equal one of these giant LED (light emitting diode) boards. Nearly 2.5 million individual LEDs provide the image on the two screens, allowing the highest quality pictures in the brightest sunlight and at night events. 
The high definition views allows for some of the best graphics and game action video in the league, live game highlights from around the NFL, instant replays, scores, statistics, plus player updates and features. 
Each of the two giant screens is made up of modular LED panels – 12.6 inches by 15.1 inches. These panels were then assembled into larger sections measuring 8 by 9 feet. Each section weighs 900 pounds, and there are 33 sections on each board. 
A new control room that can allow the high def boards to work at peak quality was designed by VPC and installed at M&T Bank Stadium by Diversified Systems, the U.S. industry leader in the construction and installation of control rooms. 
The Ravens and the Maryland Stadium Authority shared the costs of the new boards.
Also new in 2010 are the more than 500 Sony flat screen, high definition televisions, which were installed throughout M&T Bank Stadium to enhance the fans' game day experience.
Providing even more information to fans are LED boards (800 linear feet) surrounding the field.
Shaw Sportexe Momentum Turf
The playing surface at M&T Bank Stadium (as well as the indoor practice facility in Owings Mills, and main practice field at McDaniel College for training camp) is Shaw Sportexe Momentum Turf.
Momentum is Shaw Sportexe's premier sand and rubber infill surface, designed to maximize player speed and performance. The turf's special mix of sand and granular rubber provides stability, traction and speed, simulating a perfect natural grass surface. This dual infill mix works in unison with high quality polyethylene fibers and a unique multi-layered backing, to provide an extremely fast, yet safe playing field. Momentum was developed by Shaw Sportexe technicians specifically for the intense, high caliber play seen at college and professional levels
The advanced infill system received recognition from the NFL Players Association as the field at M&T Bank Stadium was ranked sixth out of 31 fields in the Association's 2004 poll.
Sightlines
Front row seating in the lower level is six feet above the playing field, high enough to eliminate any issue with obstructed views. In addition, the front row is only a short distance of 50 feet from the playing field sidelines and 20 feet from the back of the end zones.
The distinctive upper seating area includes open notches in each corner of the stadium, allowing scenic views of Baltimore.
Seating
With a seating capacity of 71,008, M&T Bank Stadium is substantially larger than its sister baseball ballpark to the north. At 1.6 million square feet, it is nearly double Oriole Park's size. Seating for the disabled is located on every level.
The 8,196 club seats at M&T Bank Stadium offer extra-wide comfort, plus VIP parking, access to the club lounges serving specialty foods, fullystaffed bars, concierge services and scenic views of downtown Baltimore.
Each of the 128 suites at M&T Bank Stadium hold between 20-24 people and features three televisions, a private restroom, VIP parking and personal waitstaff service. Many other amenities are available to suite holders.
Amenities
Extra-wide concourses (44-64 ft.) allow easier fan movement. Seven public elevators, numerous ramps and two escalators (to club level) assist the fan traffic.
There are 55 concession stands in the upper,lower and club levels with delicious game day fare, including some of Baltimore's signature favorites.
Club Level decor features a historical perspective of football in Baltimore highlighting great games, teams and players from the area's rich football history.